Fine food and beautiful views
Built in 1941, the Officers' Club at Kaneohe Bay supports the proud tradition and heritage of the Marine Corps way of life. Today, various dining programs are offered, as well as a separate bar for Officers.
Call to book an event or PME.
Call (808) 254-7650
Perched on top of a hill that unfolds a majestic view of the Pacific Ocean and the Koolau Mountains, The Officers' Club houses three reception rooms that provide the ideal environment for special events from small parties to large receptions. Hail & farewells, wedding receptions, wet downs, birthday parties and more can also be booked.
For lunch or dinner, the dining area serves the finest entrees. The O'Lounge and Hilltop Pool provide ideal places to relax and unwind.
Dining Room | Open To All Hands
The Officers' Club dining room features panoramic views of the Kaneohe Klipper Golf Course and Pacific Ocean. All menus are carefully crafted and are a testament to Hawaii's regional influences. Like us on the O'Club Facebook page to get the most up-to-date Lunch and Menu Specials. Now Open! Mongolian BBQ, salad bar & pasta bar!
O'Lounge | Exclusive for Officers
Reserved exclusively for Officers, the O'Lounge proudly continues the tradition of Marine Corps clubs at Kaneohe Bay. The O'Lounge provides an opportunity for camaraderie and promotes espirit de corps.
O'Lounge is available to Officers and equivalents. Please call 254-7650 for more information. No one under 18 years of age allowed in the O'Lounge and 18-20 must be escorted by someone 21 or older.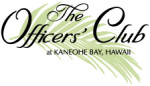 Dinning Area Hours | All Hands
Monday
Closed
Tuesday
1100-1300
Wednesday
1100-1300 & 1700-2030
Thursday
1100-1300 & 1700-2030
Friday
1100-1300 & 1700-2030
Saturday
Closed
Sunday
Closed
Holiday hours may vary.
O'Lounge Hours | Officers Only
Monday
Closed
Tuesday
Closed
Wednesday
1600-2100
Thursday
1600-2100
Friday
1500-2200
Saturday
Closed
Sunday
Closed
Holiday hours may vary.
Open to Active-Duty & Dependents, Retirees & Dependents, and MCBH Civilians (NAF & GS employees employed on MCBH) as well as Public Partners Program (PPP) participants. Take-out & outdoor poolside seating available.