Child and Youth Programs (CYP)
Child and Youth Programs (CYP) provide high-quality child care programs and services that support eligible families.
Child Development Programs, available for children six weeks through 12 years of age, include Child Development Centers, School Age Care, and Family Child Care, which offer full-day and part-time child care and, in some locations, hourly child care. All programs enrich your child's social, cognitive, emotional, physical, and intellectual growth and development. CYP Professionals work in partnership with parents to meet each child's needs in a safe, healthy, and nurturing environment.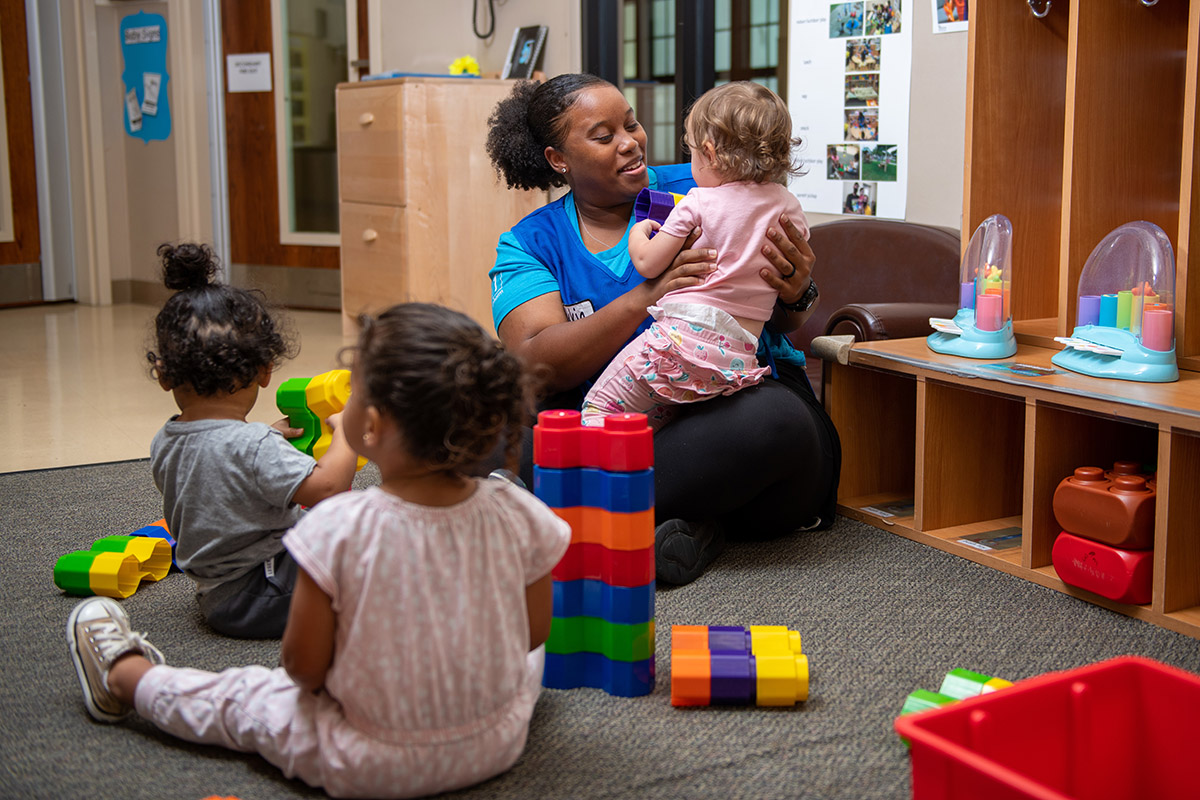 Services
Child Development Centers (CDC)
Child Development Centers (CDC) meet the individual developmental needs of eligible children by offering quality child care. Programs provide low adult-to-child ratios that support quality experiences for young children and onsite Training and Curriculum Specialists who mentor and foster the professional development of CYP Professionals.
All CDCs use the Early Learning Matters Curriculum (ELM), a standard curriculum model designed to support individualized planning for children while guiding their learning as meaningful and purposeful experiences. This research-based curriculum approach fosters early brain development and school success, thus providing continuity for military families adapting to frequent moves between installations.

CDCs are DoD certified, nationally accredited, and meet the highest quality early childhood program standards and criteria.

Each CDC supports parent involvement and works to ensure the inclusion of all children.
School Age Care (SAC)
School Age Care (SAC) offers organized and supervised recreational, educational, and social activities for children ages 6 - 12 or those attending Kindergarten through Sixth grade.
SAC programs complement, rather than duplicate, the school day. Emphasis is placed on programs that meet community needs, reinforce family values, and promote individual and group activities that develop children's social, emotional, cognitive, and physical potential.

SAC programs also offer summer camps and out-of-school care.

SAC programs are DoD certified, nationally accredited, and meet the highest quality early childhood program standards and criteria.
Family Child Care (FCC)
Family Child Care (FCC) providers offer high-quality developmentally appropriate care to children ages 6 weeks to 12 years of age. FCC providers are trained and certified by the installation command to ensure familiarity with and meet policy, health, and safety standards. As independent business owners, FCC providers have more flexibility than centers in determining business hours and the type of care they provide, such as infant only or care for children with special needs. Smaller group sizes also support a more responsive experience for children.
Youth Programs include activities such as arts and crafts, games, recreational sports, fitness and a variety of special events.
Off Base Child Care Fee Assistance provides assistance to eligible Marines in paying for community based child care services. The program is designed to assist eligible Marine families who live outside of a 15 mile radius to a Marine Corps installation with a Child Development Program in paying for approved community based child care services.

Families with school age children may also be eligible when there is no transportation to installation CYP.
Additionally, Community Based Respite Child Care for Wounded, Ill and Injured Marines and Fallen Marine families is available up to 16 hours of child care per month and per child at no cost.
Learn More
MilitaryChildCare.com is a Department of Defense website for military families seeking child care. This single online gateway provides access to military-operated and military-approved child care options across all military services. It enables families to search for and request care, manage child care requests, and update profiles online, making it easier for families to find the child care they need.
For additional CYP information or assistance with registration, you can contact your local CYP Resource and Referral Office.
To apply for community based fee assistance or respite child care services, visit http://usa.childcareaware.org/military-programs/military-families/.
Hours
Monday
0730-1630
Tuesday
0730-1630
Wednesday
0730-1630
Thursday
0730-1630
Friday
0730-1630
Saturday
Closed
Sunday
Closed
Closed on federal holidays.