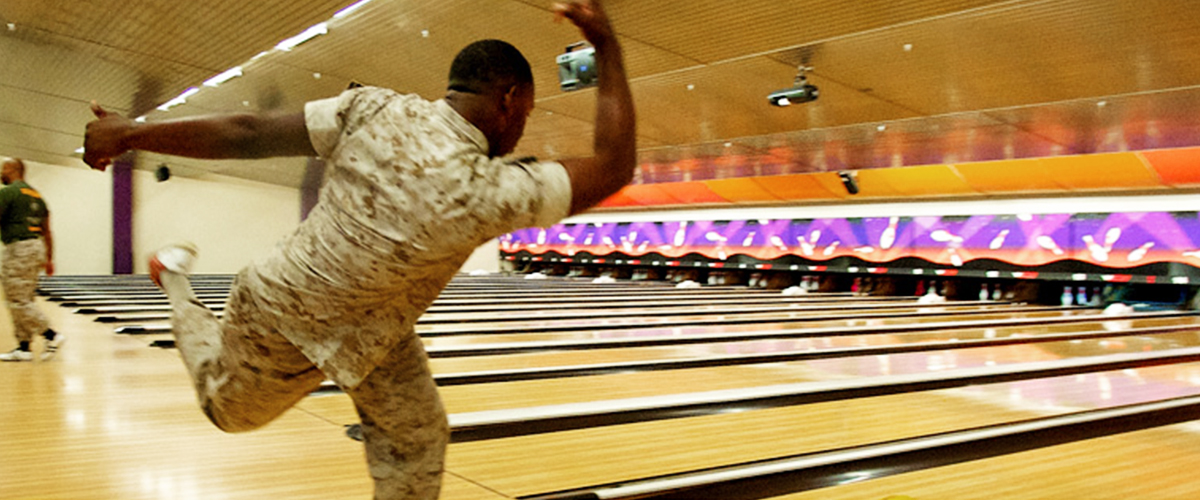 ---
There are over 20 bowling centers located on Marine Corps installations worldwide, ranging from the U.S. mainland to Hawaii, Okinawa, and Japan. With more than 300 lanes, MCCS Bowling Centers offer year-round competitive leagues and recreational play combined with promotions and tournaments. Each MCCS Bowling Center has its own unique charm, but the energy and passion found inside the doors of each will ensure you want to come back again and again.

Here is an inside glimpse at the top 5 MCCS Bowling Centers, based on customer feedback.
Bonnyman Bowling Center at Camp Lejeune. Camp Lejeune's Bonnyman Bowling Center provides fun for everyone, every night of the week. With their jammed pack schedule of promotions like Monday Madness, Wild on Wednesday, and Friday and Saturday night Glow Bowling, you're sure to find something that takes put the fun back into bowling. And if that's not enough, the staff at this 32 lane facility is also willing and able to help you in planning any type of bowling function you desire.
Leatherneck Lanes at Camp Pendleton. At 40 lanes, Camp Pendleton's Leatherneck Lanes is the largest bowling center in the Corps. For added pleasure, the newly renovated facility also offers party and event rooms, free Wi-Fi, an exciting new scoring system, Facebook game connect, a lounge, an arcade, pool tables, and live sports TV.
Foster Bowling Center at Camp Foster. Whether you're a competitive or beginner, the Foster Bowling Center is the perfect place for you! Whether you're out to beat an old friend for bragging rights or an old pro looking to take home the big trophy, Foster's all new BES X offers a variety of features to enhance competitive play at any level. Exclusive games and environments featuring now formats that make competition fun and where the less experience bowlers win, even against the most experience bowler. To up the ante, Every Monday, Tuesday, Wednesday, and Thursday the Foster Bowling Center offers the Red Pin Special. Bowl a strike when the head pin is red and win a FREE game.
Sandy Hill Lanes Bowling Center at 29Palms. With 20 well-maintained lanes, large screen television, digital jukebox, video games and a snack bar, Sandy Hill Lanes is a great facility for indoor recreational fun and relaxation. Sandy Hill Lanes also offers a whole new way to bowl with their one of a kind BES X Games gaming system. BES X Games boasts more fun ways to socialize and play while making bowling easier, more comfortable and relaxing for people of all ages. With cutting edge game options like choosing from over 19 different lane environments, customizable scoring grid backgrounds, and a feature that allows you to chat and text with other lanes you're sure to have a unique experience at Sandy Hill Lanes Bowling Center.
K-Bay Lanes at MCB Hawaii. K-Bay Lanes, a 24 lane facility, features all of the traditional bowling center elements with recreational and league bowling as well as automatic scoring, video game rooms, and party rooms. What puts K-Bay Lanes on the top five best MCCS Bowling Centers is their love for music and glow bowling. K-Bay Lanes features live music on a monthly basis and plays host to the best dance party ever seen in a bowling center. K-Bay's Cosmic Bowling, available every Friday, Saturday and Sunday, is a glow-bowl dance party with the hottest music of yesterday and today as you bowl under a cosmic array of lights. Black lights and hazers create a glowing, optical translucent environment giving you a one of kind bowling experience.
Check out the Bowling program page for more information.