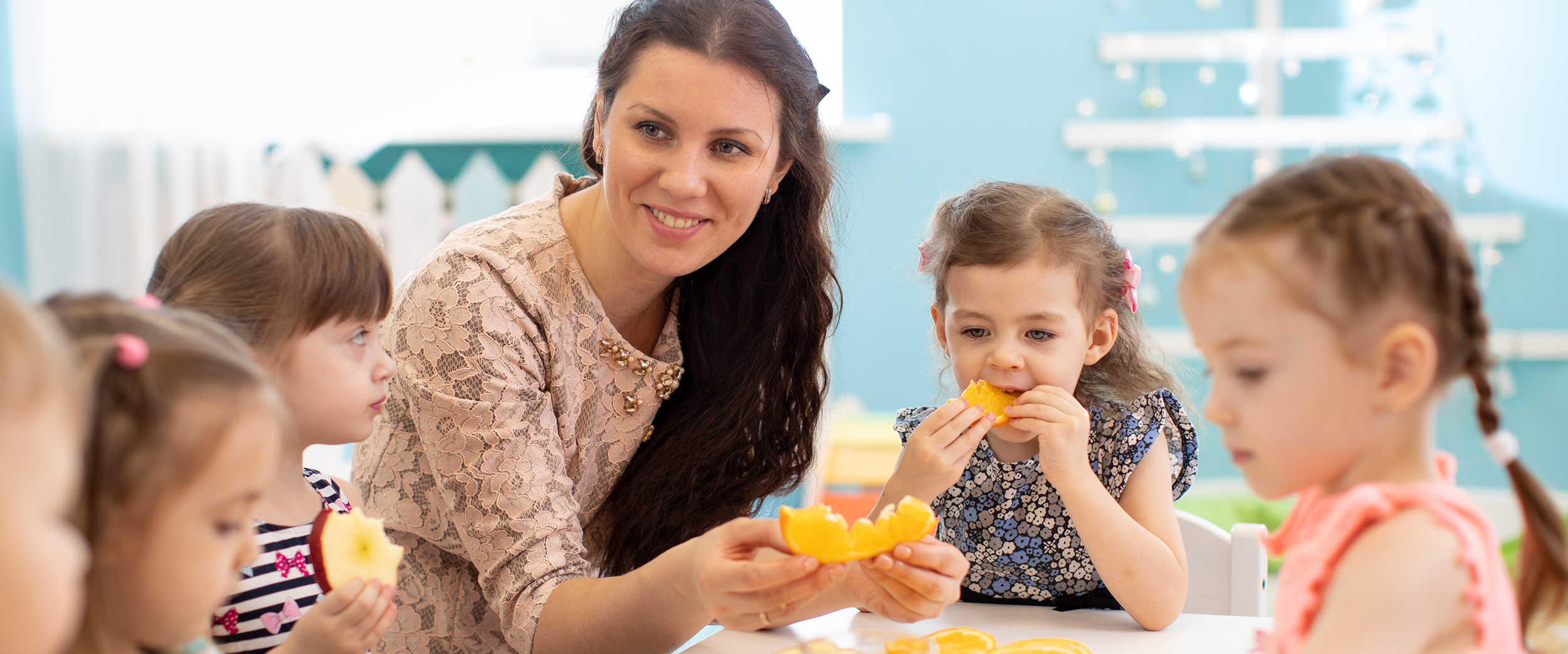 ---
Teachers and children sitting together to enjoy a meal or snack is an example of family-style dining.
Family-style dining includes:
Teachers and children eating in small groups at a child-size table and chairs.
Children assisting in setting the table with serving platters, bowls, and milk pitchers that are small enough for toddlers to manage.
Toddlers and preschool children self-serve their meals and teachers assist if needed.
Teachers guide children hand-over-hand so they can practice serving.
Teachers encourage conversations and social interactions. It's helpful to talk about the food (color, taste, shape, and size). Open-ended questions are best for getting the conversation going.
Children receive a wide range of developmental benefits from participating in family-style dining.
Fine and Gross Motor Skills Development
Children can serve themselves, which promotes hand-eye coordination.
Children learn how to manipulate utensils.
Gross motor skill development is promoted when children move their bodies to move a chair, sit, and stand.
Language and Communication Development
Children expand their vocabulary as they learn mealtime terms. Teachers encourage them to communicate in sentences rather than one-word utterances.
Children better understand how to participate in interactions through listening and participating in conversations.
Helps to develop relationships between the teacher and child.
Children are encouraged to talk with one another.
Cognitive Development
Children develop problem-solving skills with the use of utensils.
Children can imitate their teachers and peers and practice positive actions modeled by others.
Social-Emotional Development
Family-style dining encourages impulse control as children learn the rules and expectations associated with eating meals in a group.
Family-style dining allows time for conversation about food, what happed that day, upcoming events, and home.
Family-style dining encourages adult and peer interactions.
Keep It Going at Home
Children also benefit from family meals at home. The Consortium for Health and Military Performance highlighted these benefits:
Children and adolescents eat healthier. When kids eat with their families, they usually consume more fruits and vegetables. Kids also take in more fiber, calcium, and iron. And they drink fewer sodas and eat less saturated fats.
Healthy habits have staying power. Adolescents who share in more family meals tend to eat healthier after they leave the nest, so this tradition can have lasting importance. Find more tips on how to turn mealtime into family time!
Eating and talking together enables parents to tune into their kids' needs. You might learn valuable information about your children's friends, school, and interests—heading off any potential problems. They could also learn your thoughts on current events, healthy behaviors, and what matters to your family.